The Hu: Mongolian folk rockers ready to conquer the world with throat singing and traditional instruments
Like many metalheads, the band grew up listening to Iron Maiden, Nirvana, Metallica and AC/DC
Unlike their peers, their traditional roots give them a uniquely powerful sound that is impossible to resist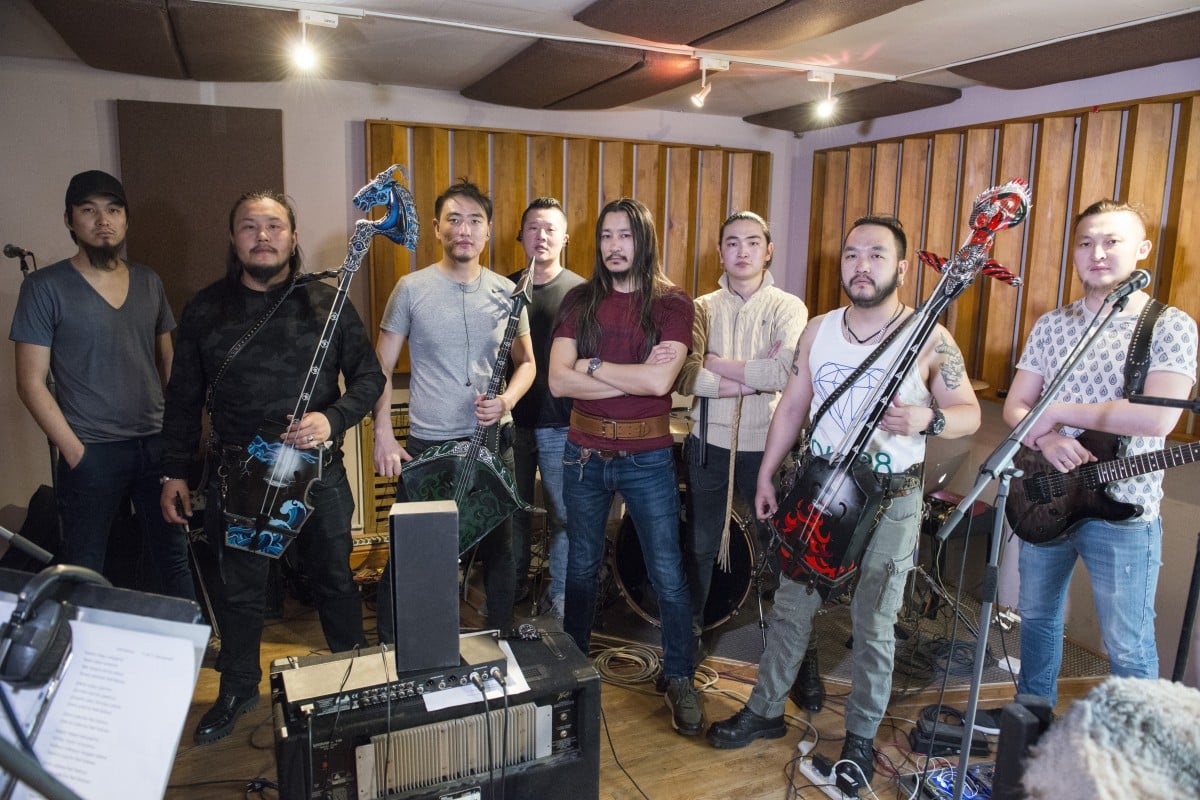 Members of The Hu (from left) Batkhuu, Gala, Temka, Odko, Jaya, Ono, Enkhush and Jambaa at their studio. Photo: Zigor Aldama
It's noon and Jaya is waiting for friends at one of the many fancy coffee shops springing up in Ulan Bator, the Mongolian capital. Temka is playing video games at home; Gala is munching on popcorn while watching an old film, dressed in his pyjamas. Enkhush hasn't even woken up yet; when he does, he grumpily knocks his horse-shaped alarm clock to the floor.
Mongolian millennials are much the same as those anywhere else, it seems.
Then, though, Gala puts down his popcorn, goes to his front door and opens it. There before him is the expansive wilderness of the steppe. He shares the view with his friends through his smartphone and all four are transported to the mountains and lakes of the western part of Genghis Khan's country.
This is how the music video to Yuve Yuve Yu ("How strange, how strange") starts.
Clad in leather and wielding instruments such as the morin khuur and tovshuur, The Hu, the band behind the song, unleash a sound as powerful as their backdrop is stunning. The urbanites transform into throat singers and the confined spaces of the city melt into infinite landscapes the vastness of which can only be captured by drones.
The clip has been viewed more than 16.5 million times on YouTube. Their second single, Wolf Totem, which brings riders of both horses and Harley-Davidsons together against an even more evocative backdrop, is not far behind, with more than 11 million views. Mongolian folk metal – or hunnu rock – is apparently what rockers across the globe have been waiting for.
"We get four to five million views a month," says the band's manager, Tuga Namgur, during a video call from Chicago, in the United States, where he is based. "The biggest agents and the business are in the US, where we get around 1.5 million of those monthly views."
The band has signed with US-based Eleven Seven Music, one of the world's lead­ing independent rock labels, and even though they haven't yet released an album – The Gereg is due this summer – The Hu have managed to climb to the top of Billboard's Hard Rock Digital Song Sales chart.
"They have an excellent and unique tribal-metal sound," says fan Diana Ashby, on the band's Facebook page, which has amassed more than 100,000 followers. "Their music is so energizing – and different! In a good way," adds Linda Shrieves. "Wolf Totem is my track through my cancer journey," posts Veronica Fairhurst. "They're going to be huge! Just wait and see," forecasts James Sobczak.
"We kind of expected this reaction, because we thought our music would fit better with foreign audiences," says a nonchalant Nyamjantsan Galsanjamts, better known as Jaya, when we meet at the band's Ulan Bator rehearsal studio. "We were born with global ambition," adds the 35-year-old jaw harp player.
"We were confident in word of mouth and it has worked a miracle," says 28-year-old Enkhsaikhan Batjargal, aka Enkhush, player of the lead morin khuur, a bowed string instrument crowned by an evil-looking red goat head. "Our success has been organic. There has been no promoting or using management tools to increase visits. People are just telling friends they have to hear our songs."
The studio is on the first floor of a massive grey building, redolent of Mongolia's communist past, in an old, residential, east-central part of the capital, where the streets are narrow and shabby. They may look "badass", with their tattoos and skull rings, but the band are hard at work by 9am. And there is no trace of any hangovers.
"They are professionals who have been in the music industry for more than 10 years. Some studied together in the Mongolian State Music and Dance Conservatory [in Ulan Bator] and have master's degrees," says Namgur, via Skype, while we wait for the members of the band to settle in the studio's editing suite.
Coffee is brewing and everybody gets a generous cup of Americano before taking their seat.
Although he doesn't sing or play, the soul of The Hu is 52-year-old songwriter and producer B. Dashdondog, aka Dashka. Having worked in the music industry for more than three decades, with almost every pop and rock band in Mongolia, his ears grew tired, he says, and seven years ago, "I started to do some research about Mongolian traditional instruments and poetry. I wanted to come up with some­thing never heard of before."
Dashka travelled to his father's lands, in the remote western Khovd province.
"It's the motherland of Mongolia's throat singing, which I find unique and powerful," says the producer, sinking into a comfortable-looking couch. "During a visit, I thought it would be interesting to mix different sounds, both ancient and modern."
That was easier said than done. "Many people can play an electric guitar, but only a few can play Mongolian instru­ments," says Dashka.
He started to look for the right people to form a band in 2016. Galbadrakh Tsendbaatar, aka Gala, was the first to come on board and the rest soon followed; the music scene in Ulan Bator is small and all of them had already worked with each other.
"We may be trained in traditional instru­ments, but our references are bands like Iron Maiden, Nirvana, Metallica or AC/DC. This is the music we listened to while growing up," says Gala, 29. The rest nod – a gentle headbang – in agreement.
"And Mongolian traditional music is not like classical Western music," adds Jaya. "The tunes have rock in them, but nobody before tried to bring it out into the open."
What makes their music different, Gala says, is that "it's based on Mongolian traditional tunes, mixed with rock beats, and that we play it using ancient instruments".
They call it hunnu rock in reference to the name of the ancient Mongolian empire and the band's moniker was chosen "because hu is the root word for human being. The intellectual being. And if you write huu, it means 'son' or 'daughter' [in Mongolian]. It's also easy to pronounce and remember, because Mongolian words can be hard to read", laughs Jaya. "Everybody in the world can say The Hu." (We wonder whether Roger Daltrey, Pete Townshend and John Entwistle came to the same conclusion when they were getting their band together, in 1964).
"We are privileged because many companies found the music beautiful and showed interest in us. Not many bands can choose their label even before they come up with an album," says Namgur.
But success at home initially proved elusive.
"In the beginning, people in Mongolia weren't that much into us," says Jaya. "They thought we were just one of those traditional Mongolian bands.
"It was something completely new for foreign audi­ences, so we made it onto the iTunes and Billboard charts. After we got the attention of the West, Mongolians started to feel curious about us. They said, 'Hey, these guys are good!'" recalls Jaya, who was awarded the best musician of the year gong at the Silver Tree Mongolian music awards in January.
Ahead of their debut solo concert, in Ulan Bator last month, the band were invited to meet Mongolian President Khaltmaagiin Battulga, who admired Gala's horse-head fiddle. And, in March, they met Prime Minister Ukhnaagiin Khurelsukh and his South Korean counterpart, Lee Nak-yeon, at a private event held during the latter's visit to Mongolia.
The sold-out Ulan Bator concert was the perfect warm-up for The Hu's European tour, which kicks off on June 6 in Berlin, Germany. As the crowds chanted "Hu! Hu! Hu!" while pumping their fists in the air, it was as if Genghis himself were rallying them for war.
However, the band's message is one of peace, and lyrics resonate with the socially conscious youth. The Harley-Davidsons may contribute to a mixed message, but The Hu want to raise awareness about the need to preserve the environment.
"We shot the videos in some of the most beautiful landscapes of Mongolia because we wanted to show how awesome our mountains and lakes are," says 28-year-old Naranbaatar Temuulen, aka Temka, who plays the tovshuur, a two-stringed lute. "We want to make people proud of nature.
"Our ancestors left us a beautiful place to live in, but the world is going downhill with global warming and pollution. We sing to unite people with the goal to preserve the world as it is, so it can also be enjoyed by future generations."
We've never considered singing in English, because it would betray the spirit of the music. This genre has to be sung in Mongolian
This month and next, The Hu will spread their message of conservation as they invade Europe, where the band are booked for 23 shows in 13 countries.
"Nine of them are major rock festivals [including Download, in Donington Park, England]," says Namgur, with pride. And the US awaits in October.
Being on the international stage won't change them, they promise. "Conveying our message is important, but we've never considered singing in English, because it would betray the spirit of the music. This genre has to be sung in Mongolian," says Gala. "We've found our sound now and won't change it. Our goal is to perfect it, polish it and make it more sophisticated."
But how will they spread their message across the world if nobody understands the language it is sung in?
"We add subtitles," says Gala, with a smile.
And thus, on YouTube, the viewer discovers that the lyrics to Yuve Yuve Yu are:
"It has been so long eating and drinking, being merry/
taking our Great Mongol ancestors names' in vain.
Yet, would not honour our oath and destiny.
Why the valuable ethics of ancestors became worthless?/
Why is it difficult to raise our nation up?
Why is it so hard to cherish the ancestors inherited land?/
How strange! How strange!
Hey, you, traitor, kneel down!"
We are treated to a rehearsal in a soundproof room at the studio. It's brutal.
The band form a circle and we are placed in the centre. Throats are cleared with a guttural sound only a few can muster, the strings of the morin khuurfine-tuned, the cymbals teased and the strings of the electric guitar scratched with a plectrum, before Jaya checks everybody with a look and nods in approval.
A few seconds of silence, then drummer Odko counts in what can only be described as an explosion.
The Hu's music takes audiences to a universe all of its own. The tunes and singing are clearly Mongolian but the guitar and overall vibe are heavy metal.